Financial or material abuse – including theft, fraud, internet scamming, coercion in relation to an adult's financial affairs or arrangements, including in connection with wills, property, inheritance or financial transactions, or the misuse or misappropriation of property, possessions or benefits.
Financial abuse is the main form of abuse by the Office of the Public Guardian both amongst adults and children at risk. Financial recorded abuse can occur in isolation, but as research has shown, where there are other forms of abuse, there is likely to be financial abuse occurring. Although this is not always the case, everyone should also be aware of this possibility.
Potential indicators of financial abuse include:
change in living conditions;
lack of heating, clothing or food;
inability to pay bills/unexplained shortage of money;
unexplained withdrawals from an account;
unexplained loss/misplacement of financial documents;
the recent addition of authorised signers on a client or donor's signature card; or
sudden or unexpected changes in a will or other financial documents.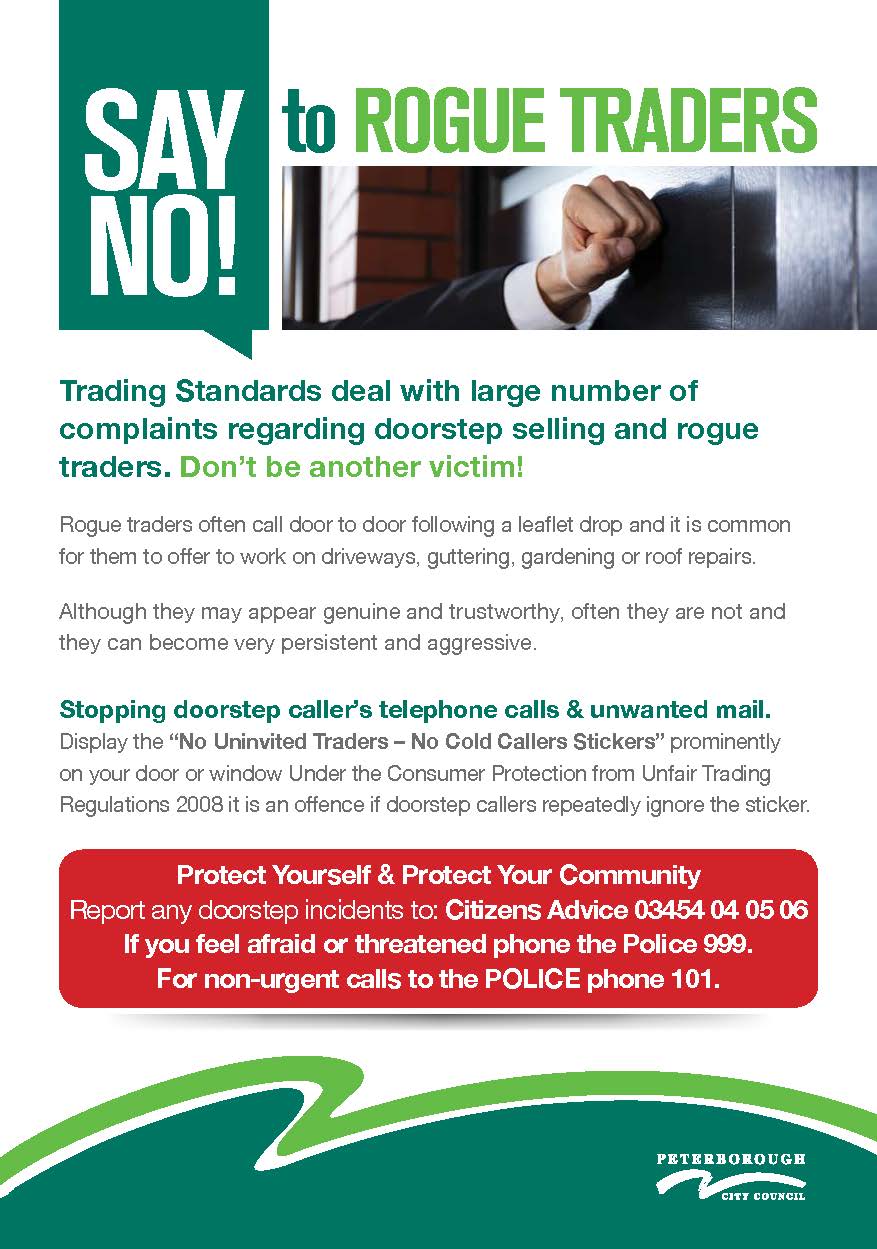 Scams and Rogue Traders
Trading Standards deal with large number of complaints regarding doorstep selling and rogue traders. Don't be another victim!
Display the "No Uninvited Traders – No Cold Callers Stickers" prominently on your door or window Under the Consumer Protection from Unfair Trading Regulations 2008 it is an offence if doorstep callers repeatedly ignore the sticker.
"No Cold Callers" stickers can be obtained from your local policing team or from your local Trading Standards office.
---
Scams affect the lives of millions of people across the UK. People who are scammed often experience loneliness, shame and social isolation.
Friends Against Scams is a National Trading Standards (NTS) Scams Team initiative, which aims to protect and prevent people from becoming victims of scams by empowering communities to "Take a Stand Against Scams".
Friends Against Scams has been created to tackle the lack of scams awareness by providing information about scams and those who fall victim to them. This information enables communities and organisations to understand scams, talk about scams and cascade messages throughout communities about scams prevention and protection.