Modern slavery or human trafficking is the movement of a person from one place to another (this could be country to country, town to town, or even as simple as one room in a building to another) into conditions of exploitation, using deception, coercion, abuse of power or the abuse of the person's vulnerability. Even if a victim consents and is willing to be moved, trafficking could still be taking place. It involves:
the threat or use of force or violence to the person themselves or their family.
forms of intimidation, fraud and deception
abduction or kidnap
the abuse of power or a position of vulnerability
the giving or receiving of payments to gain the consent of one person having control over another person, for the purpose of exploitation.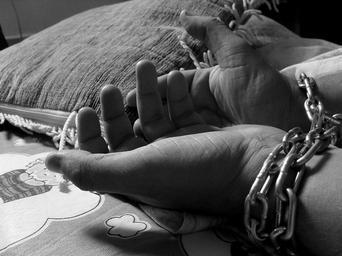 Human trafficking
Traffickers can be anyone: strangers, colleagues friends or even family members. They tend to see vulnerable individuals as easy targets and lure them in by the promise of a better life.
Many also come from the same country or cultural background as their victims, allowing them to easily exploit the personal vulnerabilities of their targets. Other traffickers employ violence to kidnap and maintain control over their victims and many are linked to the international drugs trade.
Trafficking of young people
Young people are typically tricked into travelling to the UK by believing they will go to school or get jobs here.
When they arrive they soon realise they have been lied to and are forced to work in restaurants, steal or help a family member with chores and are not allowed to go to school. Sometimes they are even forced to work in the sex industry.
Human trafficking is the second largest illegal trade in the world, the first is drugs
children are sold for as little as £10
trafficking does not always involve women in prostitution
human trafficking is modern day slavery
some trafficked women are forced to work in excess of 16 hour days and have sex with more than 30 men per day
every minute of every day another man, woman or child is trafficked across a border into a life of exploitation
one woman can earn sex traffickers in excess of £1000 per week
300,000 people are trafficked every year within the EU
trafficking is a global problem that affects every country and every continent
trafficking is one of the fastest growing international crimes
trafficking dos not always involve illegal immigration
80% of those trafficked are women and children
human trafficking trade earns double the worldwide revenue of Coca Cola
trafficking is a growing issue with 2.4million men, women and children being trafficked each year.
Signs of various types of slavery and exploitation are often hidden, making it hard to recognise potential victims. Victims can be any age, gender or ethnicity or nationality – some common signs are:
The adult is not in possession of their legal documents (passport, identification and bank account details) and they are being held by someone else;
The adult has old or serious untreated injuries and they are vague, reluctant or inconsistent in explaining how the injury occurred.
The adult looks malnourished, unkempt, or appears withdrawn
They have few personal possessions and often wear the same clothes
What clothes they do wear may not be suitable for their work.
The adult is withdrawn or appears frightened, unable to answer questions directed at them or speak for themselves and/or an accompanying third party speaks for them. If they do speak, they are inconsistent in the information they provide, including basic facts such as the address where they live
They appear under the control/influence of others, rarely interact or appear unfamiliar with their neighbourhood or where they work. Many victims will not be able to speak English
Fear of authorities
The adult perceives themselves to be in debt to someone else or in a situation of dependence.
For more information or if you have concerns about modern slavery visit
Resources from the Home Office