'Sexting'

noun, Digital Technology
the

sending

of

sexually

explicit

photos,

images,

text

messages,

or

e-mails

by

using

a

cell

phone

or

other

mobile

device.
What is Sexting?
'Sexting' – a word-mix of Sex and Texting. It can also be known as 'cybersexing', 'doxing', 'nudie' or 'selfie' and is often seen as flirting by children and young people who feel that it's part of normal life. – A qualitative study of children, young people and 'sexting': a report prepared for the NSPCC.
'Sexting' is the exchange of self-generated sexually explicit images, ranging from partial nudity to sexual images or video created via webcam or smartphone and sent via mobile picture messages or webcams and shared with others including on Social Networking sites such as Facebook, Twitter, Tumbler, Flickr, Snapchat and video sites such as Youtube and Vimeo.
If a young person shares a 'nude' or 'underwear shot' even with someone they trust, they are not able to control who it is forwarded to or where it is saved. It can be sent on to anyone or posted anywhere on the internet. It could end up on social networking sites or even porn sites.
'Sexting' is more common than you think, and has been found to be commonplace amongst children and young people.
According to "Always there when I need you": ChildLine review: what's affected children in April 2014 – March 2015, there were over 1,200 Childline counselling sessions that mentioned 'sexting' in 2014/15.
See it as a normal part of a relationship/flirting
Feel under pressure to prove their sexuality, not be seen as 'frigid' or don't know how to say no
Want compliments about their bodies
View it as safe sex (no actual contact/opportunity to explore
Feel like it's normal, 'everyone does it'
Be blackmailed to send images
Did you know?
Being involved in sending explicit pictures, where the person in the picture is under the age of 18, can be a criminal offence.
If a young person under the age of 18 takes an explicit or indecent photo or video of themselves then they have potentially created an image of child abuse.
By receiving content of this kind from another young person, they are then in possession of an image of child abuse.
The Association of Chief Police Officers of England, Wales and Northern Ireland have stated that young people engaging in sexting should not face prosecution as first time offenders, but the situation will be investigated to ensure the young people involved are not at risk. Repeat offenders and more extreme cases are reviewed differently, still with a focus on avoiding prosecution unless absolutely necessary.
What other risks are there?
Reputation Damage
With young people connecting via a wide range of technologies and social media sites, sexting content can be distributed to other users very quickly. This prevents the young person from controlling where the content is posted. This can result in damage to a young person's reputation in their school or local community, and in online communities. As content posted online can potentially exist forever in the public domain, this can have longer term effects on a young person's reputation and aspirations.
Emotional and psychological damage
The distribution of sexting content to others can cause distress and upset to the young person involved, especially if the content is distributed by someone they entrusted it to. The effects of others seeing this content can lead to negative comments and bullying, and may result in a young person losing confidence or self-esteem, and in extreme cases can lead to depression and other risks.
What advice can I give to young people?
Resist Peer Pressure
The creation of sexting content is quite often due to pressure from a partner or group. Discussing peer pressure with young people is a positive way to encourage them to take responsibility for their own actions and resist pressure from others to engage in activities they are uncomfortable with, or know to be against the law.
Know the law
Although young people will be treated as victims in instances of sexting, it is important to educate them about how such behaviour breaks the law, and the potential consequences.
Understand the consequences
Increasing young peoples awareness about what can happen after sexting content has left their control is very important in helping them understand the effects that may have on their reputation and psychological wellbeing; both short term and long term.
It's never too late to tell someone
Encourage young people to speak to someone they trust if they are involved in a sexting incident. Although it may feel like the end of the world to a young person, there is always a way back. The quicker they speak to someone, the better the chance of managing the spread of the content.
Useful resources for young people and those working with young people
Please think before you send – produced by Cambridgeshire Constabulary
Watch the "Exposed" video by CEOP, about a 15 year old girl who sends indecent photos of herself to her boyfriend without thinking of the consequences
Watch "Sexting – Privates in Public" video, a short film showing what can happen when your private phone picture is text innocently – produced by Exposure TV for Blumint
A informational booklet and Helpline contacts for when texting goes wrong.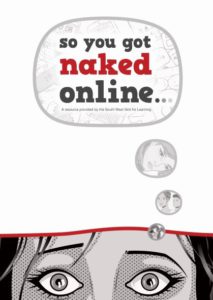 So you got naked online? – A guide for young people, produced by the South West Grid for Learning, offering information and practical advice for action following a sexting incident.
Child Exploitation and Online Protection centre – CEOP can provide advice to young people and parents/carers after a sexting incident has been reported using their online reporting button.
To make an online report click on the following link and follow the instructions: www.ceop.police.uk/ceop-report/
If someone is forcing young people to send an inappropriate image of themselves, this should be reported to the Police by calling 101.
Young people can call also call Childline free on 0800 1111 and this number won't appear on a telephone bill. Available 24 hours a day.